Epione
Free WordPress Theme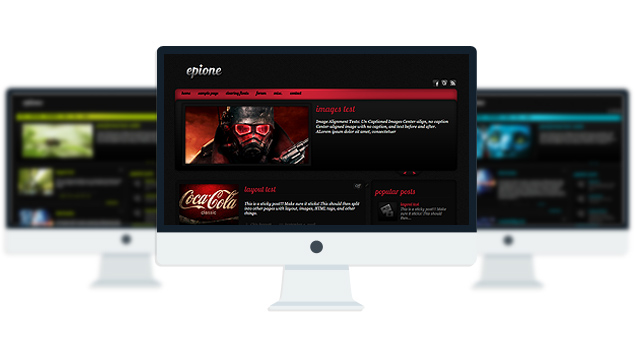 Epione is a wordpress theme with 5 gorgeous skins.The name "Epione" derived from greek goddess of the soothing of pain.
Fantabulous Typographic Theme.
Unique Homepage With Slider.
5 fantastic skins.
Popular posts widget.
WordPress 3.0 Menu.
Mult-Level Dropdown Menu.
Custom login Page.
Social buttons to submit posts to Facebook, Twitter,
Stumble upon, Digg, Google Buzz!
Awesome font.
Easy to use theme options.
Gravatar Support.
Threaded comments support.
Valid XHTML/CSS3.
No hidden, paid or sponsored links in the theme.
One Click Install. No plugin required.
Compatibility:
Internet Explorer 7+
Firefox 3+
Safari 5
Opera 9+
Netscape 6+
1.4
—-
+ Added WordPress "Featured image" option available for post thumbnails and the slider.
+ Added wordpress 3.0 Menu feature
1.3
—–
Initial Release
1. How Do I add content to the slider?
A: Go to Appearance> Epione Options> Slider and select a category for the slider.
The slider will show the latest posts from that category.
2. How-To change the slider speed:
A: You have to open up "other.js" file from your epione/js theme folder and find:
pause: 2000,
To change the speed you have to change this value to your desired need. The default is 2000 milliseconds. If you want to slow the slider down you have to increase this value and save the file.
Note: If you dont know how to open the other.js file via FTP. Use this plugin:
http://wordpress.org/plugins/wp-filemanager/
3. The slider stopped sliding, how to fix that?
A: Its probably a plugin conflict. Disable all the plugins one by one and find out which one is causing this.
4. Whats the right dimension for the slider images?
A: 450px x 230px